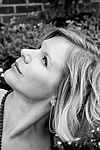 Allison Waddell
Modern, Contemporary
Allison Waddell is from North Wilkesboro, NC. She began her moving lifestyle with competitive gymnastics and horseback riding which led to a professional dance career. Allison has spent her life exploring, making, performing, and teaching the movement arts. Allison holds degrees in Dance and Speech Communication from Meredith College and has spent the last two decades traveling nationally and internationally facilitating the movement arts. She has danced in the works of Laura Dean, Amy Chavasse and with Even Exchange Dance Theater. She is a founding member of the contact improvisation quartet THEM and a directing member of the Zen Monkey Project (Charlottesville, VA).
In addition to her modern and contemporary work, Allison choreographed The Rocky Horror Show for Live Arts, and Guys and Dolls, West Side Story and Alice in Wonderland at Tandem Friends School in Charlottesville VA. She has been on faculty and guest faculty teaching yoga, dance, improvisation and choreography at many schools in the United States including ArtsTogether, Ninth Street Dance, the Chapel Hill Ballet School, Ishta Yoga, New York Yoga, PURE Yoga East, New York City Public Schools, Meredith College, Duke University, Elon University, Mimar Sinan University in Istanbul, Turkey and the Universidad De Las Americas in Cholula, Mexico. Her choreography has been performed at the NC Dance Festival, the American Dance Festival, Bates Dance Festival, Performatica in Choloula, Mexico, and the International Festival of Contemporary Dance in Ankara, Turkey.
In New York City, Allison completed her 200hr yoga teacher training from YogaWorks and completed her 300hr advanced yoga teacher training with Kristin Leal with additional training with Yogiraj Alan Finger. She continues to study EmbodiYoga with Lisa Clark and is working on completing her Pilates certification. Allison teaches yoga at Evolve Movement and has a massage and bodywork practice. She is currently a member of the Black Box Dance Theater. When Allison isn't in the studio she is a proud and busy mom with her two kids Kysa and Wynray.
NCDI is thrilled to welcome Allison to our faculty. She will be teaching Modern classes on Thursdays. Allison's classes are organic, athletic and eclectic as she draws inspiration from her diverse movement background. Come ready to be expansive, expressive and explore the power of Modern dance.