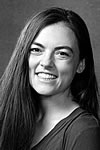 Courtney Crumpler
Contemporary
Courtney Crumpler began dancing at NCDI in 2001. She trained at the North Carolina School of the Arts, Princeton University, and Duke University, where she received a MFA in Dance. A movement artist, organizer, researcher and translator working between Brazil and the United States, Courtney's commitment to social justice is a key aspect of her movement practice. When teaching, she draws on training in modern and post-modern dance, yoga and somatics, and experience with street performance, circus, and Afro-Brazilian dance.

This summer, Courtney is excited to teach Critical Contemporary Modern, a dynamic and physical class that supports students in fostering autonomy and anchoring their movement expression in self-awareness and acceptance. Attentive to the world outside the dance studio, Critical Contemporary Modern ends each class with a conversation of a topic related to movements for justice. Through the class, students will be invited to deepen their physical practice, foster well-being in community and explore new movement pathways through action and reflection.

Join Courtney this summer for a bold movement modern class at NC Dance Institute !