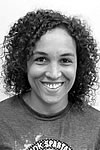 Erica LaGarde
Street Jazz, Contemporary
Erica LaGarde is a native of Virginia and has lived in North Carolina since 2001. She graduated from NCSU with a BS in Business Administration. While attending NCSU, she began coaching dance teams and teaching classes in hip-hop, jazz, and contemporary styles. In addition to technique and choreography, Erica emphasized conditioning to build strength and improve endurance in her students.
In 2015, Erica's choreography won Dance World Champion for Open Coed Hip-Hop Division. Erica believes that being an effective teacher means one must always enrich their expertise. She actively studies ballet and hip-hop at NCDI and attends workshops throughout the region. She has worked with amazing choreographers like Brandon Bryant, Kendra Andrews, and Bettis Richardson, and has shared the stage with Carolina Ballet's Nik Smirnov. Erica is a vegetarian, distance runner, yogi, animal lover and fitness enthusiast.