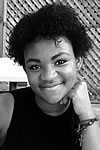 Janay Lee
Jazz, Musical Theatre, Creative Movement, Tap
Janay fell in love with dance at Leesville Road High School under the direction of Shannon Carr-Williams and YouTube. She was a member of the LRHS Dance Ensemble.

Janay came to North Carolina Dance Institute on a summer study scholarship, and has been a dancer at NCDI for many years since. She has taught ballet, tap, jazz, and musical theatre for the City of Raleigh Summer Camps for the past three years. She has a passion for jazz and theatre, but has fallen in love with ballet at NCDI. Janay is a full time student at Wake Tech, pursuing an associate's degree in Early Childhood Education, and she hopes to pursue a bachelors in Child Development.

Janay leads fast-paced, upbeat, and fun dance classes for beginner to intermediate level dancers. She really enjoys dancing and brings that joy to her classes at NC Dance Institute.