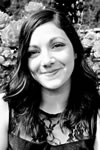 Jessica Allen (Jess)
Modern, Contemporary
Jessica Allen (Jess) trained with Virginia Ballet Theatre, Arts Together, Raleigh School of Ballet, and NC Dance Institute. She received her B.A. Degree in Dance Studies and Minor in Music from Meredith College. She trained with Carol Finley, Alyson Colwell-Waber, Talani Torres, and Renay Aumillar. She has taken master classes from Brian Brooks, Mark Dendy, David Dorfman, Gaspard Louis, and Mishay Petronelli. During College, Jessica danced at the American College Dance Festival and attended the North Carolina Dance Alliance. She performed and choreographed as a full company member of Meredith Dance Theatre and DanceWorks. She has had professional training with Ballroom coaches and Latin Champions. Her love for the performing arts has also led her to sing for many years.
Jessica has been teaching dance for 8 years now. Her areas of expertise include teaching students of all age groups. Styles that she has taught include Ballet, Ballroom, Tap, Creative Movement, Modern, Jazz, Hip Hop, and Lyrical/Contemporary. She enjoys spending time with her husband and little boy, going to the beach, mountains, and Disney.
Jessica did her College internship at NC Dance Institute in 2012 and is happy to be a part of the NCDI family again! She is excited to share her love for dance and fun choreography with NCDI students!