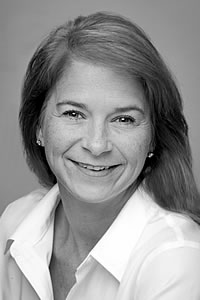 Artistic Director Kirstie Spadie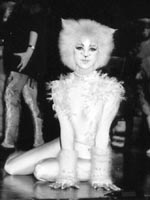 Kirstie as Victoria in Cats
Kirstie Spadie
(formerly Kirstie Tice), Artistic Director and cofounder of North Carolina Dance Institute, received a Bachelors of Fine Art from the North Carolina School of the Arts with the Chancellors Award for Excellence. Kirstie was coached by Agnes de Mille as the Lead Cowgirl in Rodeo and played the role of Ado Annie in Oklahoma. Kirstie performed in Milton Myers Full Moon Rising at Jacobs Pillow. She performed and toured nationally and internationally with musical theatre productions, most notably as the White Cat, Victoria, in Cats.
Kirstie performed in West Side Story in the US, Paris, Rome, Amsterdam, Munich, and Glasgow, Scotland. She has served as the Assistant Director for the original Jerome Robbins choreography for West Side Story. Kirstie performed for the Miss America Pageant in production numbers from Grease and has been in several national television commercials. She was last seen as the dancing red dress in the Subway national television commercial.
Kirstie is active in the community with teaching master classes at St. Mary's, Wakefield High Drama Department, Enloe High Dance Department, Wake County Day of Dance and choreography for Cardinal Gibbons and Broughton High Show Choir. Her choreography has been presented at the NC Children's Dance Festival, the NC Educators Ball, Carolina Arts Festival, NBC-17 Tree of Lights television special, ABC TV Winterfest, and Pieces of Gold. Her contemporary choreography was presented at the 2009 Youth Grand Prix Ballet Competition. Kirstie was a guest faculty instructor for Carolina Ballet's Summer Intensives. In 2003, Kirstie was awarded Community Dance Educator of the Year by the Dance Association for North Carolina Educators (DANCE).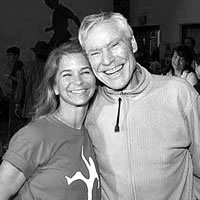 Kirstie and Jacques d'Amboise
Kirstie has taught thousands of children and adults throughout North Carolina. Students experience a positive and high-energy environment with respect towards traditions and discipline of dance. Kirstie trained with the National Dance Institute Teacher Training Program in NYC and believes highly in their teaching methodologies that dance can promote confidence, discipline, enrich children's lives and spark their artistic dreams for the future. Kirstie was appointed by National Dance Institute founder, Jacques d'Amboise, as the Artistic Director for North Carolina Arts In Action from 2005-07. As the founding NCAIA Artistic Director, she conceived, choreographed and directed Moving to the Masters and Got Jazz!.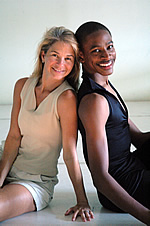 Kirstie and Robert Hartwell
Kirstie assisted Kevin Backstrom for the North Carolina School of the Arts 2007 production of West Side Story. It was a monumental staging of the 50th anniversary of the musical theatre masterpiece. Kirstie was appointed by Chancellor John Mauceri to the University of the North Carolina School of the Arts Board of Trustees, Honorary Ex Officio. She is a proud alumna and advocate for UNCSA. Kirstie was featured in the book Career Ideas for Kids who like Music and Dance and most recently, Firestarters: 100 Job Profiles to Inspire Young Women. Kirstie has been teaching and choreographing for many years. She values the personal connection between students and parents and hopes to develop dancers that will discover the magic of theatre. Read about Kirstie's impact on former student and NCDI alumni
Robert Hartwell
.
For the past 20 years, Kirstie has been connected with the dance community with Carolina Ballet Summer Intensives, SERBA, WCPSS Dance Educators Professional Development Series, and at the 2017 NC Dance Educators Conference. Kirstie directed and choreographed The Wiz at Saint Mary's School and choreographs for the adult acting group, STARS (Special Theatre Arts of Raleigh). She has traveled the world dancing and teaching, including recent travels to Beijing and Shanghai, China to choreograph Madagascar the Musical, Seussical, and The Wizard of Oz. Kirstie enjoys mentoring talented students in their pursuit for excellence in the arts and thanks her parents for supporting her early ambitions to pursue a career in the arts.
The purpose of life is to discover your gift. The meaning of life is to give it away.
- David Viscott