Lisl Vaillant
Ballet
Originally from New York, Lisl attended the prestigious School of American Ballet and began dancing professionally at Pennsylvania Ballet under the direction of Robert Weiss. During her nine years with Pennsylvania Ballet, she was promoted to soloist. Lisl joined the Pacific Northwest Ballet in Seattle where she was featured in Maurice Sendak's movie, The Nutcracker.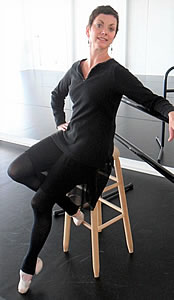 Rounding out her performing career, Lisl performed for eight years on the National Tour of The Phantom of the Opera, performing in the corps de ballet and the understudying principal role of Meg.
Upon retiring from performing, Lisl gained extensive experience in teaching and mentoring adolescents and young adults as founding director of Ballet Southwest Academy in Austin, TX. Lisl honed her expertise in public relations, marketing, administration and established a cohesive syllabus and choreographed youth productions.
Lisl moved to Raleigh as the Coordinator for Outreach Education for Carolina Ballet. She is now teaching throughout the triangle and we are happy to welcome Ms. Lisl for our NCDI ballet faculty.