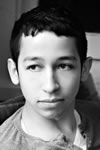 Ronnie West
Hip-Hop, Contemporary
Ronald West is a graduate of the North Carolina State University / College of Design / School of Architecture and received a Bachelor's Degree in 2007 for Environmental Design in Architecture. Ronald was mentored and trained under Kirstie Spadie of the North Carolina Dance Institute on a full scholarship while attending the College of Design. He has studied and danced as a company member of the Black Box Dance Theater lead by Artistic Curator, Michelle Pearson, an adjunct company member at the Dance Exchange in Washington D.C. lead by artistic director, Cassie Meador, and has studied at 'The PULSE' student and teacher workshops in Atlanta and New York under the pulse faculty master teachers and various workshops across North Carolina. A natural study, Ronald began assisting six months into his training and went on to teach by the end of his first year of training. He continues to explore a vast range of dance movement in his classes, in which cutting edge contemporary hip hop and jazz styles are explored. To add, he has danced professionally in Modern Dance works, both locally and nationally, under choreographers Diego Carrasco Schoch, Kate Davis, Courtney Greer, Justin Tornow, Killian Manning and Michelle Pearson in association with the Continuum Collective, Dance Exchange and Black Box Dance Theater. He has also had works featured and selected in the North Carolina Dance Festival, the Durham Independent Dance Artists premiere season, as well as, the upcoming independent documentary, 'Earth Caster', about the life of Thomas Sayre, where he danced, conceptualized and choreographed movement for the film. He has become one of North Carolina's most sought after choreographers and master teachers within the University System, dance studio circuit, public and private school systems and he continues to broaden his palette by branching into the commercial music video scene, including choreography for vocalist, Jean Morisson, musician, Sean Magee and the band, Citizen Shade.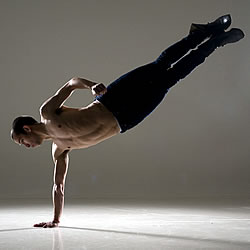 Beyond choreographing for the previously mentioned, in 2011, Ronald founded the BLACK IRISH contemporary hip hop company. BLACK IRISH is focused on the generation of innovative movement, visual design and conceptual content, while utilizing connections with other progressive artists in all genres of the arts, with the simultaneous intent of bringing the dance and greater community together through the love of dance, regardless of race, gender, sexual orientation or religion. So far, BLACK IRISH has partnered with the band, Citizen Shade, videographer, Michelle Lotker, hand pan musician Jeremy Lewis, bass guitarist, Ian O'Hare, videographer, Griffin Hart Davis, fashion designer, Kate Erwin and choreographer, Michelle Pearson. Ronald West continues to grow both as a student and teacher and is excited for his future movement research. Ronald West's next journey will be to travel with 2 other colleagues in April 2016 to China, as a diplomat of the U.S. State Department, to truly use dance as a universal language and test the powers of connection with dancers, special needs children and everyday citizens.