This story was copied from the Mudcats web site www.gomudcats.com on April 11, 2003. North Carolina Dance Institute congratulates and wishes the best to student Taylor Fleming for her upcoming appearance on Star Search!
*** April 30 Update: Unfortunately, Taylor's appearance on Star Search required rescheduling, but we congratulate her just the same and hope for another chance for her to perform soon.
Anthem Singer Set to Appear on Star Search
Raleigh eight year old was set for two dates this season
Zebulon, NC -- The Carolina Mudcats would like to congratulate eight year old Taylor Fleming of Raleigh on being chosen to appear on Star Search, the CBS show hosted by Arsenio Hall. She'll perform on Wednesday, April 23.
"We were shopping when we got the call," said Kelly Fleming, Taylor's mother. "She just started jumping up and down, I wish I had it on camera."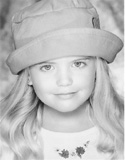 Fleming, who was scheduled to sing the National Anthem on April 20 but will have to miss the performance as she'll be in Hollywood.
"They're going to tutor her and work with her on her wardrobe and lyrics," Fleming said. "They are really going to take care of her."
The Flemings had sent a tape to Star Search producers and even participated in the North Carolina open auditions earlier this month.
"When Mrs. Fleming told me the news, I was excited for her," said Jarrod Wronski, Mudcats Director of Community Relations. "I was surprised that she was apologetic that Taylor couldn't make it."
Fleming will be invited back to sing the anthem upon her return to the area which is scheduled to be some time in May. Fleming is still scheduled to sing on August 8 before the Mudcats game with Orlando.
The Carolina Mudcats have long-been a starting point for future stars in Major League Baseball. Now, it will prove to be a starting point for the entertainment field as well.
Fleming was chosen to perform the anthem this season after auditioning in March during the team's open auditions at Five County Stadium. The team had over 100 people audition.