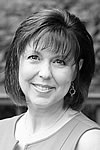 Kim Yarborough
Tap, Ballet, Musical Theatre
Ms. Kim brings more than 20 years of dance education to her classes at NCDI. She owned her own dance school for 17 years and has been involved in every aspect of dance and theater. At the age of 14, Miss Kim joined the Florence Regional Civic Ballet in Florence, SC, as a member of the Corps de Ballet. After 2 years in the Corps, she was promoted to soloist, then principal dancer. The ballet company provided her the tremendous opportunity to partner, train, and perform with Ballet West, Buffalo City Ballet, and Joffrey Ballet.
Ms. Kim has been a performer, teacher, choreographer, director, workshop leader, competition judge, and mom! She is grateful for the blessing of working with children and adults of all age both in the classroom and on the stage. In addition to being a dance instructor, she is a Certified Business Etiquette Trainer, Children's Etiquette Trainer, a Speaker, and Personal Coach. She also volunteers with Junior Achievement to teach career education to middle school students.
Ms. Kim has been married to "Mr. Ed" for 34 years and they have 3 cats, Simon, SoSo, and JoJo.